---
DTP 6000-320LVG | GANTRY TRUCK & CARGO SCANNER
---
The DTP 6000320LV is a specially combined gantry cargo scanner, which can screen vehicles, the truck cabin and the cargo hold. The system is equipped with a low transmission 320 kV X-ray generator for the cabin and occupied vehicles and a 6 MeV linear X-ray generator for containers and the cargo hold.
The complete scanner moves on rails, but can also be operated in drive-through mode, which provides maximum operational flexibility.
GET A QUOTE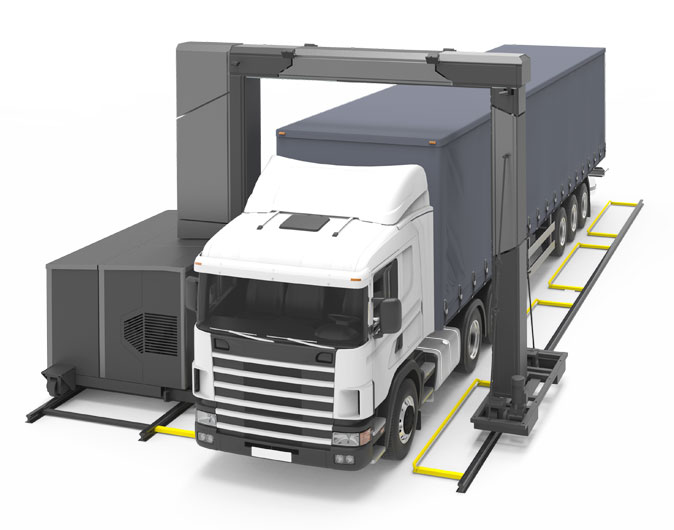 ---
FEATURES & BENEFITS
---

COMBINED 320 kV & 6 MeV X-RAY GENERATOR
The DTP 6000-320LVG has an inbuilt 320 kV generator for cabin scans and occupied vehicles and another high energy 6 MeV linear X-ray generator for cargo scans.

RAIL MOUNTED X-RAY SCANNER
The complete scanner moves on rails, which allows the screening with constant speed for best image quality.

ACCURATE MATERIAL DISCRIMINATION
The inbuilt linear accelerator provides accurate and reliable material discrimination, which helps to identify contraband and threats.

HIGH RELIABILITY
The DTP 6000-320LVG is designed for long-time outside operation and withstands even harshest environmental conditions.

HIGH STEEL PENETRATION
The DTP 6000-320LVG has a steel penetration of 320 mm and can therefore see even through dense steel plates.

HIGH IMAGE QUALITY
The DTP 6000-320LVG provides clear and high-quality images, which help the operator to identify contraband and threat objects, concealed in the cargo bay.

PROFESSIONAL VIDEO SECURITY
unival provides professional video security upgrade, which enhances the complete system with professional alarm management and zone intrusion detection.

REMOTE SYSTEM MONITORING & CENTRALIZATION
Central operation and system monitoring, with the capability to manage several DTP systems at once, with independent image analyst allocation.
---
IMAGES
---

---