DTP 6000LVM | MOBILE TRUCK & CARGO SCANNER
The DTP 6000LVM | MOBILE TRUCK & CARGO SCANNER is a stae-of-the-art mobile X-Ray scanning system, designed for high-energy (6 MeV) X-ray imaging of vehicles, containers and trucks, whereas the vehicle drives through the extended boom or the vehicles is screened in drive-by mode.
It provides end users with a powerful tool for detecting drugs, conventional contraband, arms or explosives by enabling the display of a high-definition radioscopic image of the cargo.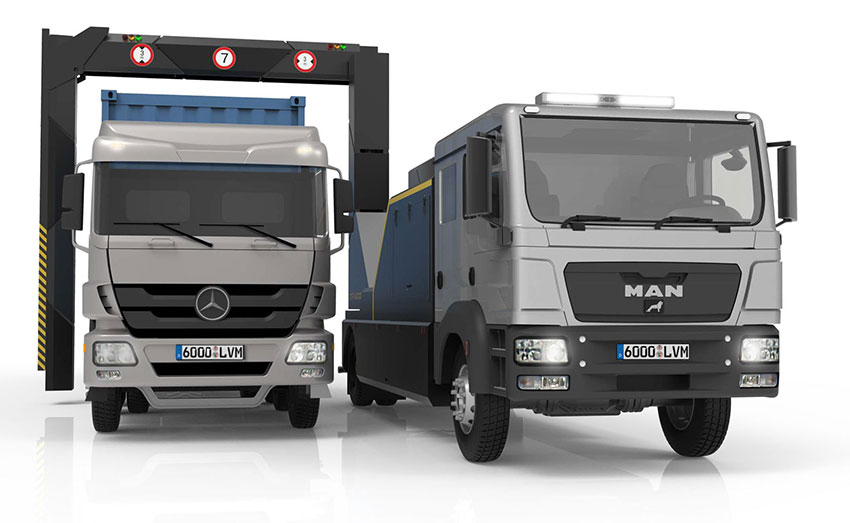 MULTIPLE SCREENING MODES
In its standard drive-by mode, the DTP 6000LVM screens one or more unoccupied and stationary vehicles. For high throughput applications, the drive-through mode enables rapid scanning of the cargo when the vehicles pass through the portal.

7+1 COLOR MATERIAL CODING
The DTP 6000LVM provides either classic (3+1) or advanced (7+1) material discrimination, for market leading threat detection.

HIGH STEEL PENETRATION
The DTP 6000LVM produces high-quality X-ray images of inspected objects through up to 350 mm of steel (320 mm guaranteed) at vehicle speed of 7 km/h.

PROFESSIONAL GEUTEBRÜCK VIDEO SECURITY (MOBILE CERTIFIED)
unival provides professional mobile certified video security upgrade together with Geutebrück, which enhances the complete system with professional alarm management and video cameras.

MAN BASE VEHICLE
The MAN base vehicle is providing excellent quality and proven reliability. The MAN worldwide service network can be used for maintenance and support. Furthermore, the DTP 6000LVM is one of the lightest mobile screening system of its class.

HIGH IMAGE QUALITY
The DTP 6000LVM produces high-quality X-ray images with a high contrast sensitivity, high copper wire detection (1.5 mm) and 2 mm spatial resolution.

HIGH SCREENING RATE
The DTP 6000LVM is able to scan and inspect the contents of containers and heavy trucks (up to 40 trucks) rapidly. In one scan, it can determine the vehicle and container contents, including 'high cubes' containers loaded on standard trailers.

FLEET MANAGEMENT & REMOTE MONITORING
unival offers highly sophisticated fleet management as well as completely remote operator and system monitoring, providing full health status and recording of all operational procedures.