XWJ2 B | BATTERY AND BATTERY MANAGEMENT
unival group developed a completely new power supply line for the jamming systems.
XWJ2 10 Ah/ 24V BATTERY IN ALUMINIUM CASE
The unival 10Ah battery pack Is a special high power 24/28V 10Ah Li Ion pluggable battery pack for our XWJ2 jamming modules. The battery is covered in a durable aluminum case.
BMS (Battery Management System): Standard BMS, with protection for overheating, over current, over voltage, under-voltage and over-charge.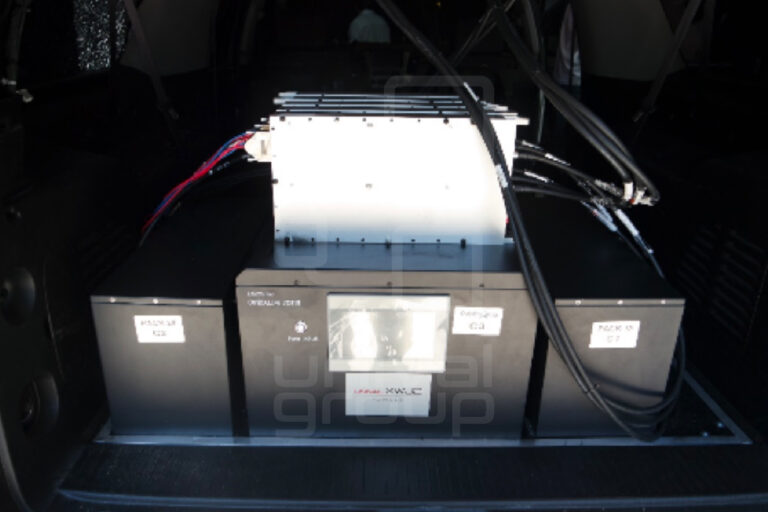 XWJ2 B, 2 x 160 Ah/ 28V BATTERY PACKS WITH POWER MANAGEMENT
The XWJ2 convoy jammer operates with 2 x 160 Ah batteries, which are controlled through a automatic power management and switch.
While the jammer is operating on battery no. 1, the 2nd battery will be charged through the vehicle alternator.
The 2nd alternator provides 12V/ 200 A. Therefore 12V will be converted into 24V through the DC/DC converters.
XWJ2 B, 1 x 182 – 610 Ah/ 28V BATTERY PACK WITH POWER MANAGEMENT AND VOLTAGE REGULATOR
The battery provides power to the jamming system while being charged at the same time. A battery management system controls the battery system and a high-end voltage regulator provides constant power supply, independent from power peaks from the alternator or under voltage from the battery.
Our battery system will be charged from the alternator, but Battery management system regulates the charging and behind the battery system we install a smart voltage regulator, which provides 28V independent of the battery status. So we prevent from any power supply failures!