---
unival XWJ2 C | DIGITAL WIDEBAND CONVOY PROTECTION JAMMER
---
The unival XWJ2 C | DIGITAL WIDEBAND CONVOY PROTECTION JAMMER is the newest, state-of-the-art jamming system to counter roadside IEDs. The unival XWJ2 C is completely programmable, with up to 50 different jamming profiles, and can cover the whole frequency range.
Via the intuitive software, the output power can be allocated to selected frequencies and spectrums and combined with the appropriate jamming modes, which makes the unival XWJ2 C one of the most powerful and efficient systems on the market.
All system components have been developed for maximum performance. Each unival XWJ2 C is specifically adapted and configured to its target country, in order to provide the maximum protection.
GET A QUOTE
DATASHEET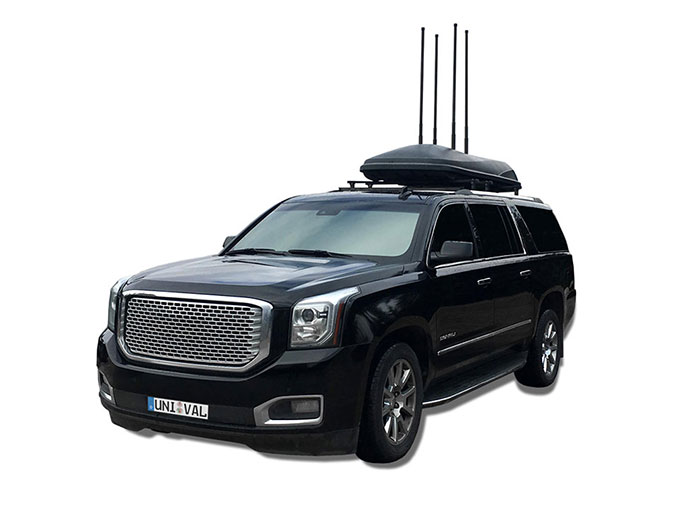 ---
FEATURES & BENEFITS
---

SMART DIGITAL JAMMING SYSTEM
Multiple start/ stop frequencies, jamming modes, output power, modulation & other parameters can be specifically programmed for maximum performance.

FULL FREQUENCY JAMMING
The unival XWJ2 is a wideband jamming system for full frequency jamming, starting from 20 MHz up to 7.200 MHz.

HIGH POWER JAMMING
The unival XWJ2 is designed for maximum efficiency and can surpress frequency bands with a maximum performance of up to 2.000 Watt.

VERSATILE JAMMING MODES
The unival XWJ2 uses various jamming modes to counter frequencies, such as Sweep, Barrage, Spot, Hopping, Band-selective, Channel raster and others.

PRE-PROGRAMMED JAMMING PROFILES
The unival XWJ2 can be pre-programmed with up to 50 different jamming profiles to react to different jamming scenarios.

SPECIAL JAMMING ANTENNAS
The unival XWJ2 comes with a special set of powerful directional and omni-directional antennas, which are NATO standard compliant.

INTUITIVE PROGRAMMING SOFTWARE
The XWJ2 JAMMING SOFTWARE provides a clear GUI with automatic setup algorithms. User-friendly through automatic jamming performance optimization.

MODULAR SYSTEM
The unival XWJ2 consists of different jamming modules and can be therefore easily exchanged, scaled and adapted according to mission parameters.
SPECIAL POWER SUPPLY SYSTEM
A special power supply system has been developed for the unival XWJ2, with powerful rechargeable batteries and a reliable battery management system including voltage regulation vs. unstable second alternator solutions.

CERTIFIED VEHICLE SHIELDING
The whole base vehicle is shielded with certified EMR/EMF special foil, in order to provide maximum radiation safety to vehicle driver and operatives.

REAL-TIME STATUS MONITORING
The unival WXJ2 provides real-time temperature and status monitoring, in order to protect the systems.

5G READY
The unival XWJ2 is 5G ready and can be upgraded to counter 5G frequency transmissions.
---
IMAGES
---