---
BV 7080DV | MEDIUM DUAL-VIEW X-RAY SCANNER
---
The BV 7080DV is a high-end dual-view X-ray scanner with a large tunnel opening of 70×80 cm, which is beneficial to scan larger parcels, bags and objects.
The dual-view X-ray functionality adds a second X-ray projection, which shows the scanned object from the top and from the side simultaneously. Therefore, the system is able to detect even the best concealed threats and contraband, such as explosives, knives, firearms, drugs and many others.
GET A QUOTE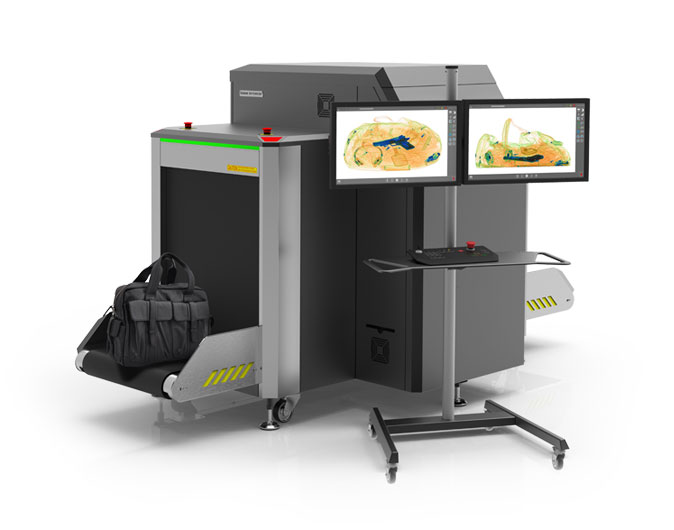 ---
FEATURES & BENEFITS
---

DUAL VIEW X-RAY SCREENING
The scanner provides two different X-ray projections (top and side), which shows even the best hidden contraband and threats.

QUICK START & SHUTDOWN
The scanner is ready for operation within 30 seconds, with an immediate shutdown procedure, when the system is turned off.

HIGH QUALITY X-RAY IMAGES
The scanner provides high-quality X-ray images with a high contrast sensitivity, detailed copper wire detection and high spatial resolution.

AUTOMATIC IDENTIFICATION OF THREAT OBJECTS
The software automatically highlights threats, e. g. weapons, explosives, drugs, as well as dense areas, where dangerous object may be hidden.

3+1, 7+1 AND INFINITE COLORS MATERIAL CODING
3+1 colors imaging (organic/inorganic/metal), 7+1 colors imaging and infinite colors are available, which gives a highly precise material discrimination.

INTUITIVE GUI
The graphical user interface (GUI) is intuitive and efficient, in order to provide smooth operation of the system.

OPTIMIZED FOR TOUCH SCREEN OPERATION
The system can be operated via touch screen, special keyboard or mouse, whereas the use of a touch screen speeds up the scanning time by approximately 25%.
REAL-TIME SELF DIAGNOSTICS
The status of all subsystems is constantly monitored, which allows the system to be kept operational all time.

TAMPER-PROOFED SOFTWARE
The software highly resistant to viruses and other harmful interferences, with complete internal log of all user activities.

MULTI-LANGUAGE SOFTWARE SUITE
The software supports English, German, Russian, Italian, French, Spanish, Portuguese, Polish, Arabic, Chinese and others.
---