---
BV 100100M | X-RAY SCANNER FOR VANS
---
The BV 100100M is a specifically developed X-ray scanner for vehicle integration, with a tunnel opening of 100×100 cm. The BV 100100M features a special design, which makes it resistant against shocks and impacts.
Furthermore, the BV 100100M has an internal climate control system, which protects the scanner from high temperatures, whenever the vehicle is deployed in scan mode.
GET A QUOTE
DATASHEET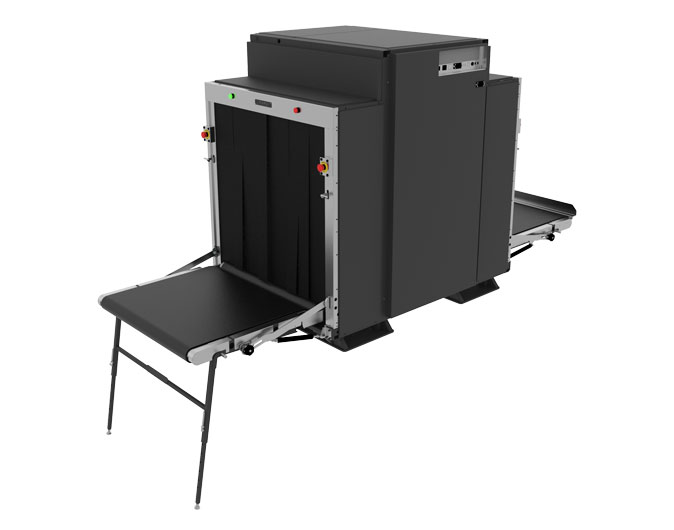 ---
FEATURES & BENEFITS
---

SPECIAL MOBILE VERSION
The scanner is specifically designed for vehicle integration, featuring a ruggedized, reinforced construction and special shock absorbing elements.

TEMPERATURE CONTROL SYSTEM
The scanner has an in-built temperature control system, which activates, if the temperatures are to high due to outside environmental conditions.

HIGH QUALITY X-RAY IMAGES
The scanner produces high-quality X-ray images with a high contrast sensitivity, detailed copper wire detection and high spatial resolution.

AUTOMATIC IDENTIFICATION OF THREAT OBJECTS
Special algorithms provide automatic highlighting of threats, such as weapons, explosives and drugs, as well as highly dense areas.

3+1, 7+1 OR INFINITE COLORS MATERIAL CODING
3+1 colors imaging (organic/inorganic/metal), 7+1 colors or infinite colors palettes provide a precise material discrimination based on the effective atomic number.

INTUITIVE GUI
The graphical user interface (GUI) provides intuitive tools and settings, which result in quick mastering of the system controls and efficient scanner operation.
REAL-TIME SELF DIAGNOSTICS
Status of all subsystems and components is constantly monitored, thus allowing the system to be kept operational all time.

TAMPER-PROOFED SOFTWARE
A special configuration of the Operator's Workstation makes its software highly resistant to viruses and other harmful interferences.

MULTI-LANGUAGE SOFTWARE SUITE
The software supports English, German, Russian, Italian, French, Spanish, Portuguese, Polish, Arabic, Chinese and others.
---